The Schiit Mjolnir is somewhat of a "budget"-statement amplifier. Until Schiit launched the Ragnarok, Mjolnir was their top-of-the-line amplifier. Aggressively priced and impressively specified, it is intended to make most of the competition look, or rather sound, like they are bad value.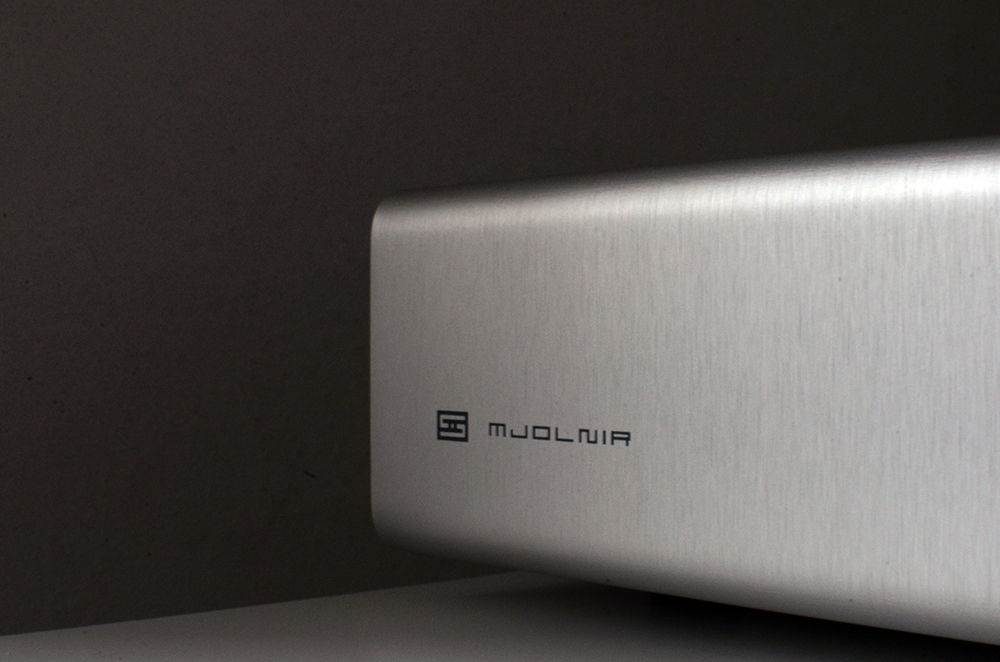 Build
The Mjolnir it a fully balanced amplifier using a JFET-transistor input stage and a MOSFET-transistor output stage, implemented in what Schiit calls "Circlotron-style topology", a more efficient and simplistic design. Don't ask me what a Ciclotron is, but obviously the design is so simplistic that you even cannot use a normal ¼" TRS plug for your phones, you have to stick with a 4-pin XLR or a dual 3-pin XLR headphone connection. Adding a TRS would  make things more complicated, since the two channels would have to share ground, something a fully balanced amplifier do not, and due to the simplistic design, Schiit wouldn't add more circuits to make way for an unbalanced output. For most headphones you need to get a new cable or modify your existing one. A major trade off for some, but since th 4-pin XLR is becoming more and more accessible, many users won't really mind.
The Mjolnir is a big headphone amplifier, with a full standard component width. But it is slim and not very deep, so it won't take up that much shelf- or desk-space. It feels very nice and solid and all the exterior parts seems to have perfect fit and finish. The weight matches the looks, with two nice and heavy rugged transformers, it sits steady in its place. It is dead silent through all of the headphones I used, but from the case itself, there is an audible hum from the transformers. If you are a low level listener sitting closer than two feet in a totally silent room with very open headphones, the hum might bother you. I had the amp 2,5 feet away and it never bothered me.
Sound
After a couple of months with the Mjolnir, and comparing it to several other amps using  various headphones I felt I got a grip of the Mjolnir's main sonic traits. First, it feels like a very neutral amplifier. I don't really like the term "neutral", as it obviously lacks subjectivity, but with this amp I feel it is the best word to use. It delivers punch when it shall, it is very detailed, yet slightly smooth sounding. Along with the term "neutral" I also think of the Mjolnir as kind of "flat" sounding. Flat, as in a flat frequency response, which is a good thing, but also "flat" in a less flattering way. The Mjlonir has, in my opinion, a weakness when it comes to soundstage depth. It paints a very wide and open sonic picture, but when it comes to creating the illusion of placing instruments further and further away, it often falls a bit short compared to the more expensive amps I compared it with.