The Hifiman HE-1000 got quite a lot of attention when launched in 2015. It introduced a totally new shape and sound for the Hifiman flagship, replacing the HE-6 which now (unfortunately) is no longer produced. But the HE-1000 is great. So I got one. But then, after just a year, Hifiman launched the mk2. An improved version with slightly redesigned headband, new pads and cable. It also has a lighter tone to the color of the wood and headband, which helps you tell them apart. Replacing a flagship this fast understandably annoyed some enthusiasts for several reasons, like e.g. that it lowers the resale value of the mk1 and the feeling of owning a true flagship is reduced for the original purchaser. But on the other hand, that is how progress works. Can you make a better product, you make it. Hifiman is a young company.
Anyway. I got a chance to loan a HE-1000 mk2 and compare it side by side to my mk1 with a variety of amplifiers. I used the Violectric V800 DAC all the way through. Here's my impressions, amp by amp, track by track.
Auralic Taurus mk2
Reload – Ministry: This extremely noisy piece has more bass with the mk1. Otherwise they are quite similar.
Scratch Bass – Lamb: This intense electronic instrumental sounds equally great on both. The bass to my ears is equally full and tight on both. Everything else also seems to be very similar.
Floratone – Floratone: Here, the sound of the mk1 feels a bit fuller and warmer in general. Just a tad, but it is noticeable.
Spring 1 (Vivaldi Recomposed) – Max Richter: An all strings piece, this piece doesn't differentiate the two heapdhones. Can't tell them apart.
Natsukashii – Helge Lien Trio: Quiet, toned down piano trio. I feel the mk1 sounds a bit more open and warm. Not a big difference, but I prefer the older version.
Donde Está Tu Cariño – Tomatito: I feel the mk2 is slightly more open here. Minor, minor differences. Both are great.
For each and every one of these songs swapped cables, using the mk1 cable on the mk2 and vice versa. The observations I made remained the same, making it safe to conclude that the new cable isn't the reason for the differences I heard.
Violectric V281
Neon Junkyard – Deerhunter: The mk1 comes out a bit warmer here. Really impressed with the V281. Such a super tight, controlled amplifier with such a super pinpointed stereo image.
Lookout for Hope – Bill Frisell: No real differences to report here, except the bass a tiny, tiny tad more prominent with the mk1.
Violectric V200
Midnight City – M83: Hard to spot a significant difference here as well. They are both great, and in a totally similar, or rather identical, way.
Overgrown – James Blake: Two headphones. Such great sound. So similar.
Woo WA22
Slow – Leonard Cohen: First I listen to the whole song a couple of times with the mk1. Switching to mk2, my immediate reaction is that it is a bit less full sounding, a bit lighter sounding. But when I switch back, I realize it is a very minor difference.
Dualist – Ola Kvernberg: Again, there this diffuse sense that the mk2 is a tad lighter, the mk1 slightly fuller. But the difference is very minor. Both play great with the WA22, really great.
Conclusion – sound differences
Sound wise, the difference between these two headphones is very minor. Often I could not tell them apart. But when I did, I tended to perceive the mk2 as a tad lighter than the mk1 , which sometimes had a tad more mid-bass presence, but sometimes it was the other way around – so it was not consistent. It seems like the new pads are absorbing/reflecting different frequencies in the mid-bass range a bit differently, so that which one has that extra tad of mid bass presence will depend on the song you play. But over all, their tonal balance was close to identical. The perceived level of detail was identical to my ears in my set up, and so was stereo image presentation (height, width and depth). Sense of speed and attack, dynamics, they were all the same. In other words: If the question is whether the mk2 is an upgrade in sound quality in my system using my ears, I would say no. It is a very minor side-grade. An ever so slightly different flavor. The HE-1000 is simply just still a HE-1000. And I am happy about that.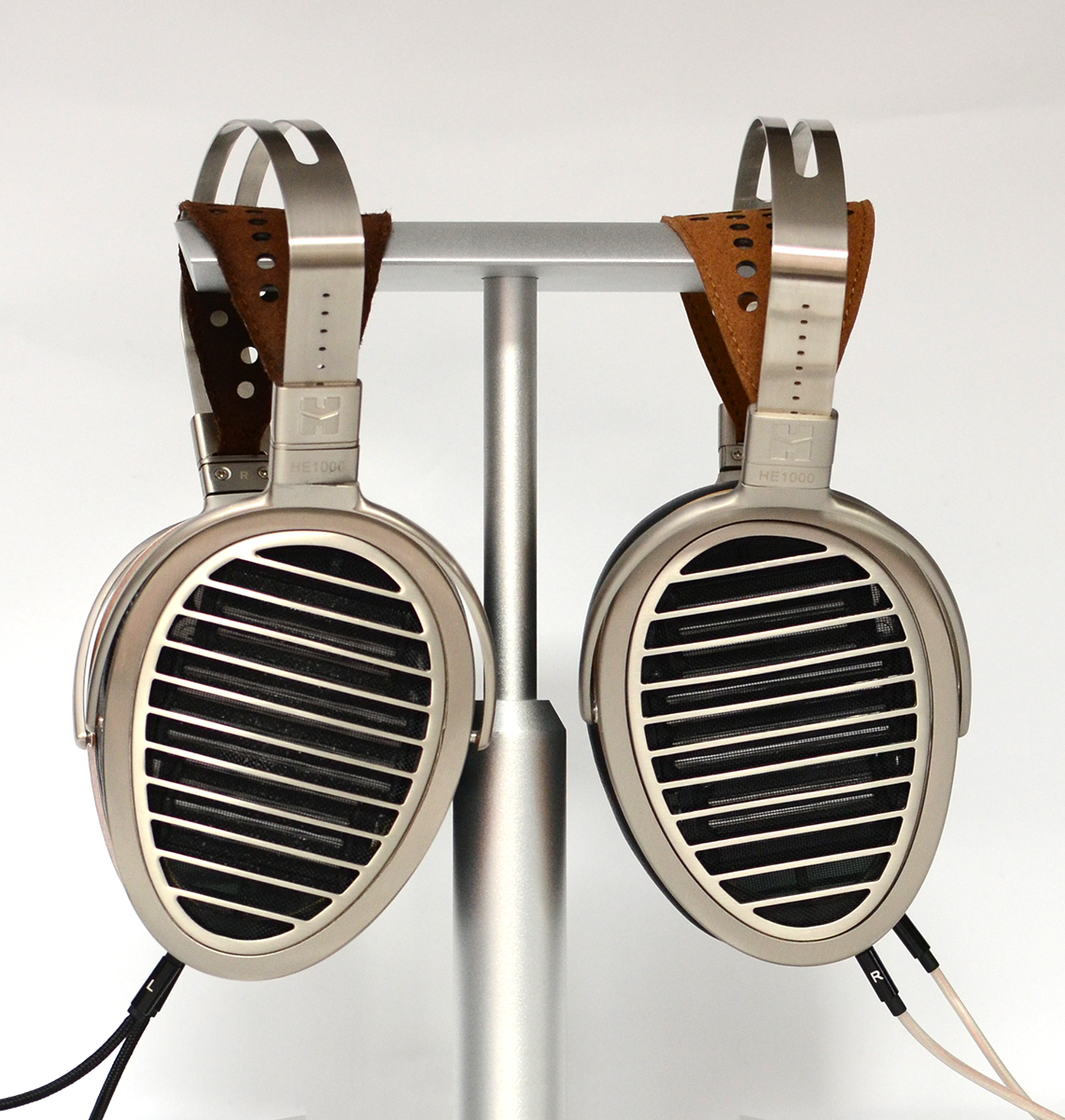 Build/Construction/Cable
The place where the mk2 has improved is in comfort and build. It feels better on my head. It fits better. It is lighter. The new pads are very nice with a bit more room for my ears even though the frame is a tad thinner.
Another significant change is the cable. I really, really like this new cable. I couldn't find any obvious sound differences, but it is so much more comfortable. The mk1 cable was incredibly stiff and annoying. The new one is made by threading the smaller cables into this rubber-like semi transparent tube (similar to how Nordost makes their headphone cables) which makes for a super light, super flexible cable that has just the perfect amount of friction. Comfort wise it's maybe the best cable I have tried, and for a stock cable it definitely is top notch. You get three cables in the box: A 4 pin XLR, a 1/4* jack and a 3.5 mm for portable use. 
If you wonder, the case looks the same. It is made for storage and transport only, and do not function well as an everyday storage box.
Overall Conclusion
The HE-1000 feels like a high quality, well built, well crafted and well designed headphone. Sound wise not much has changed. The first version sounded fabulous, and they hasn't done anything to make it sound less great. Overall it is a better product because of the improvements made to the headband, pads and cable.
Music used
Reload – Filth Pig, Ministry
Scratch Bass – What Sound, Lamb
Floratone, Floratone, Floratone
Richter: Recomposed By Max Richter: Vivaldi, The Four Seasons – Spring 1 – Recomposed By Max Richter: Vivaldi, The Four Seasons, Max Richter
Natsukashii – Helge Lien Trio
¿Donde Está Tu Cariño? – Aguadulce, Tomatito
Neon Junkyard – Monomania, Deerhunte
Lookout for Hope -Further East/Further West, Bill Frisell
Overgrown – James Blake
Midnight City – M83
Slow – Popular Problems, Leonard Cohen
Dualist – The Mechanical Fair, Ola Kvernberg